Time for another wonderful installment from a member of our recent trip to Colombia. Written by travel writer Dale Dunlop who joined our intrepid group on a remarkable exploration early 2018. 
Dale originally wrote the piece for his followers on his website The Maritime Explorer and was kind enough to let us share his first-hand experience with our own travellers. 
This is the third post from Colombia during the ongoing eleven day trip to that country with Adventures Abroad. The First Post was an introduction to Bogota and the wonderful Paloquemao Market, while in the second we headed to the small city of Zipaquira to see the Catedral de Sal and play a game of tejo. It was a jam packed first day and the second promises to be no less so with visits to two museums and a walking tour of the oldest part of the city, Candelaria. But first we are going to start the day off with a funicular ride up to the top of the mountain that dominates the Bogota skyline, Monserrate. Won't you join us for the ride?
History of Monserrate
Monserrate is a 10,341 ft. (3,152 metre) mountain that rises abruptly from almost the centre of old Bogota. It was named for a mountain of the same near Barcelona, Spain, but since it was a sacred mountain to the pre-Colombian natives, it had an earlier name – Quijcha Caca or grandmother's foot.  When the Spanish arrived in the mid-1500s the native religious ceremonies were quashed and replaced by Catholic ones, including the veneration of what was now Monserrate. In the 1600s climbing Monserrate began as a pilgrimage and quickly became a popular destination for Bogotanos.  Around 1650 the Sanctuary of Monserrate was built and after several enlargements is where a lot of the religious visitors are headed.
The weather in Bogota during our stay was completely unpredictable with clouds alternating with sunny periods and a few rain showers. Monserrate was never clearly visible from below while I was there so I have poached this picture from Wikipedia to give you an idea of what the sanctuary looks like on a clear day.
The other, and I suspect principal reason most people want to visit Monserrate is because of the fantastic view of Bogota from up here. Luckily it looks like the morning is going to be at least partly sunny and with luck, we'll get see that great view.
Getting to Monserrate
There are three ways to get to Monserrate. You can walk – the path up the mountain was closed for a lengthy period after a 2015 wildfire, but is now reopened and apparently in better condition than ever. There are over 1,500 stairs and considering you are starting at over 8,500 feet (2640 m) it is an extremely difficult enterprise suitable only for those in ultra good shape or the insane. We did see young men who were in ultra good shape at the top doing wind sprints up the sanctuary stairs. So if you think this is you – go for it.
For the other 99% it is either the funicular railway or the cable car. The funicular, which is a cable assisted railway system that allows cars to ascend slopes that would be impossible with just an engine, was opened in 1929 and refurbished in 2003. The cable car was opened in 1953. The ideal visit would be to take one up and the other down, but on days that are not overly busy, only one or the other will be running. Today it's the funicular.
We get to the funicular in a series of taxis that Andres Fernandez, our Adventures Abroad tour leader arranges. Alison and I are supposed to be with Andres in the last taxi, but after we get in apparently the guy thinks the fare is not long enough and we get out and find another taxi. I hope the asshole doesn't get another ride all day.
Arriving at the funicular station a good ten minutes after everybody else we can see that they are almost at the head of the line with local guide Catalina Rincón leading the pack. In between there are at least fifty more people, but they really don't seem to mind as Andres leads us past them to the front of the line. Try doing that in Canada or the U.S.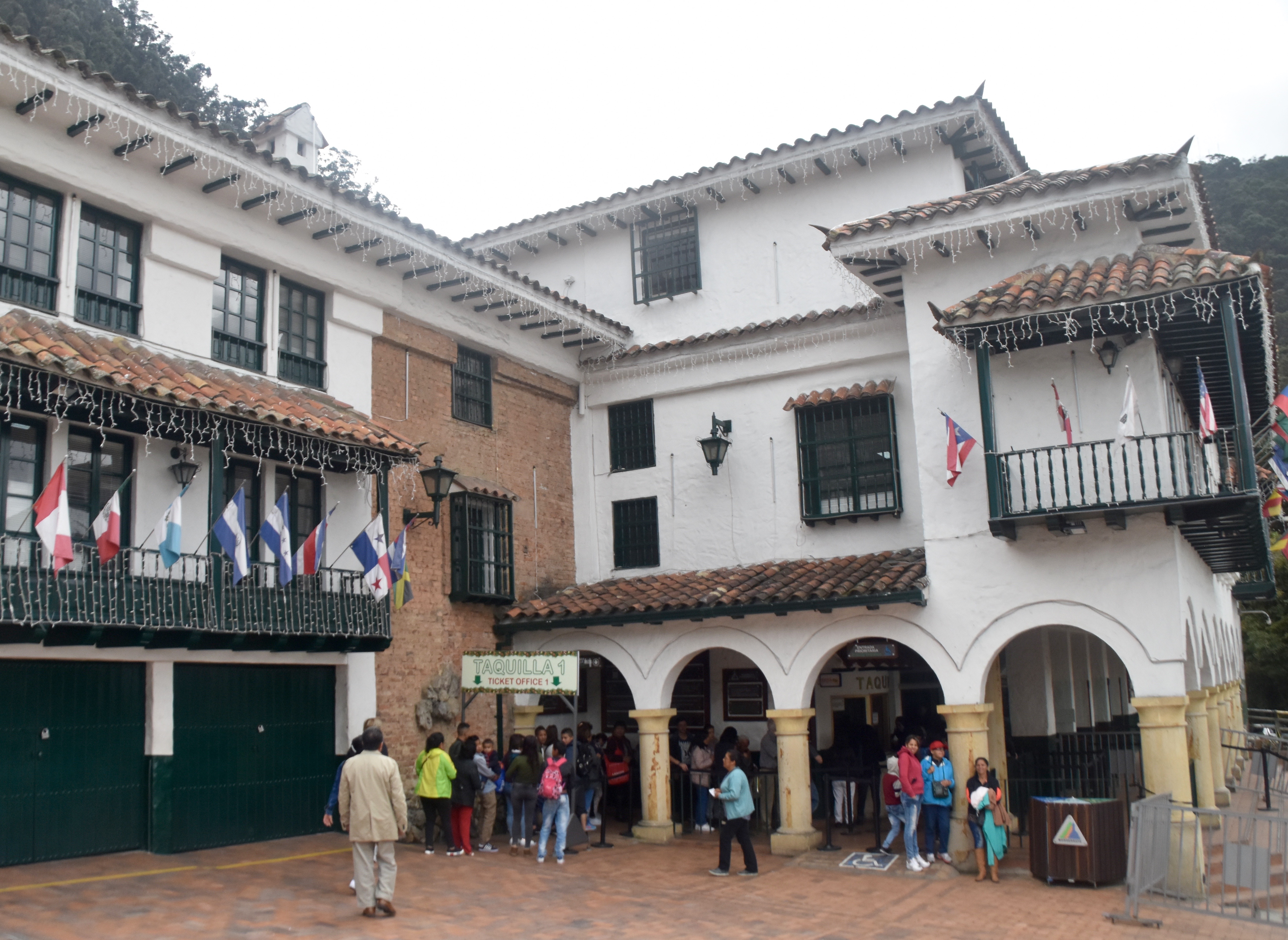 I manage to secure a seat in the last row which will give me a great view of what we are leaving behind, but not at what is ahead. This is what it looks like as we leave the station.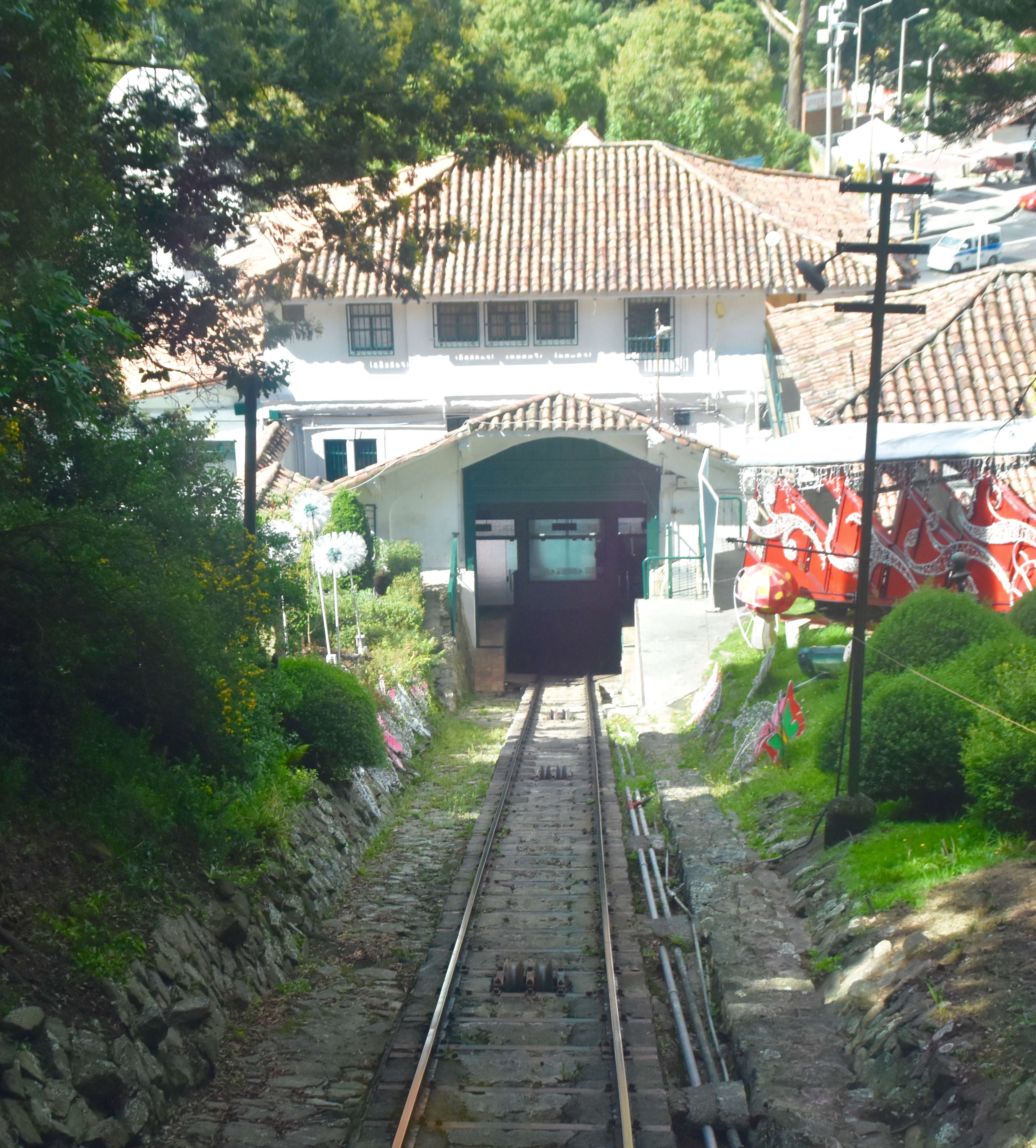 And about midway up we pass a car coming down.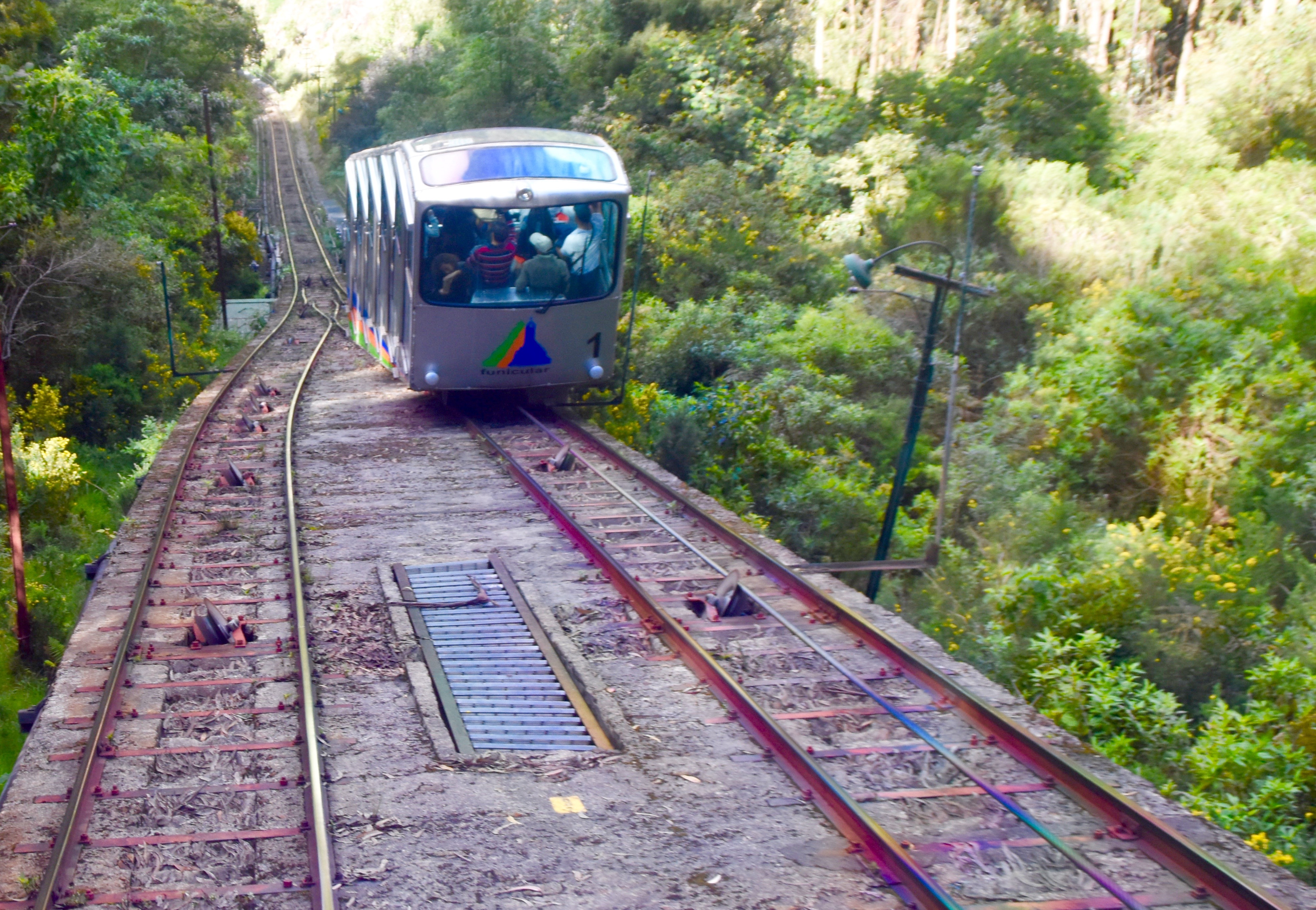 And the enter a tunnel for much of the last part of the climb.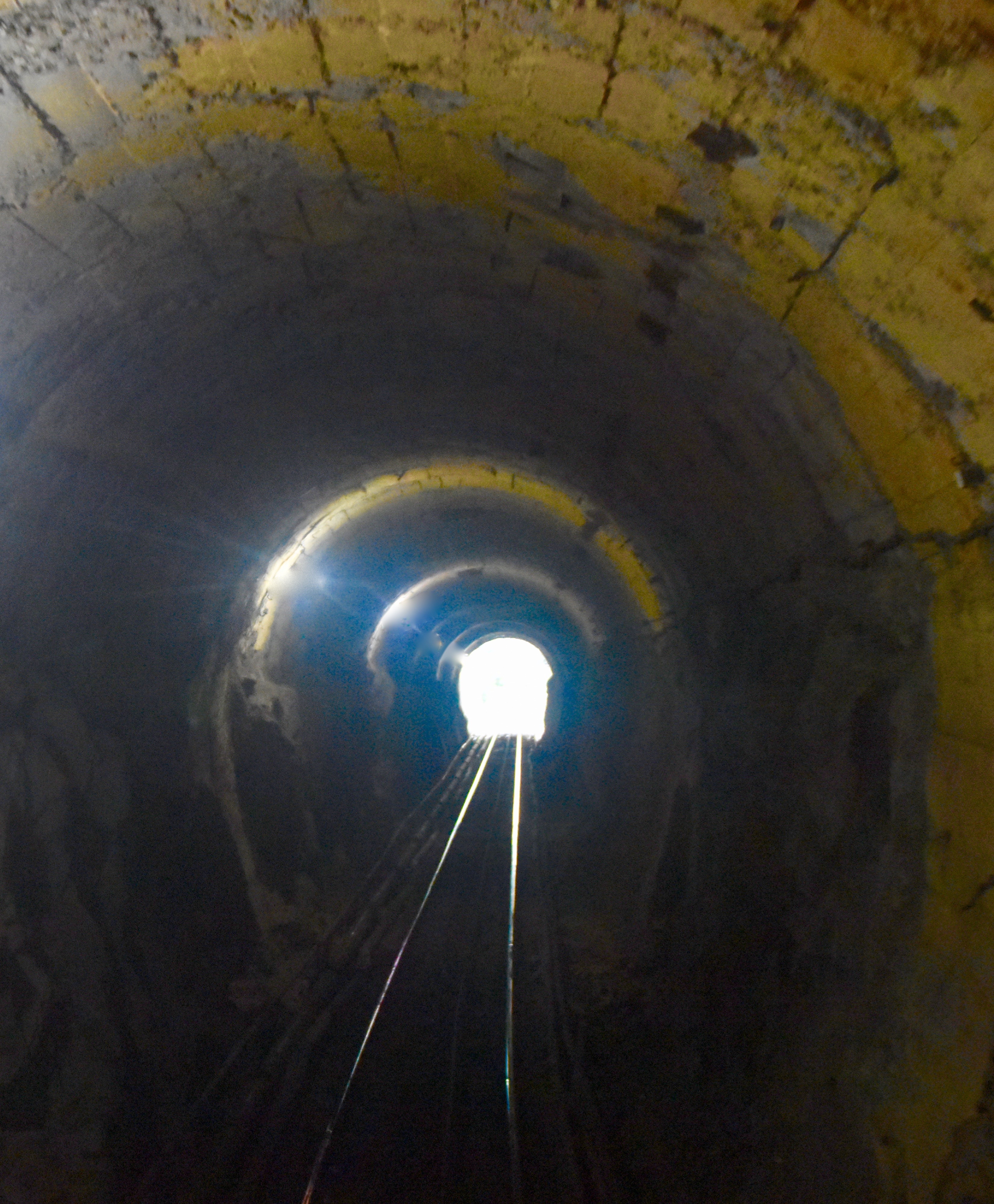 However, just before entering the tunnel you get this amazing view of downtown Bogota.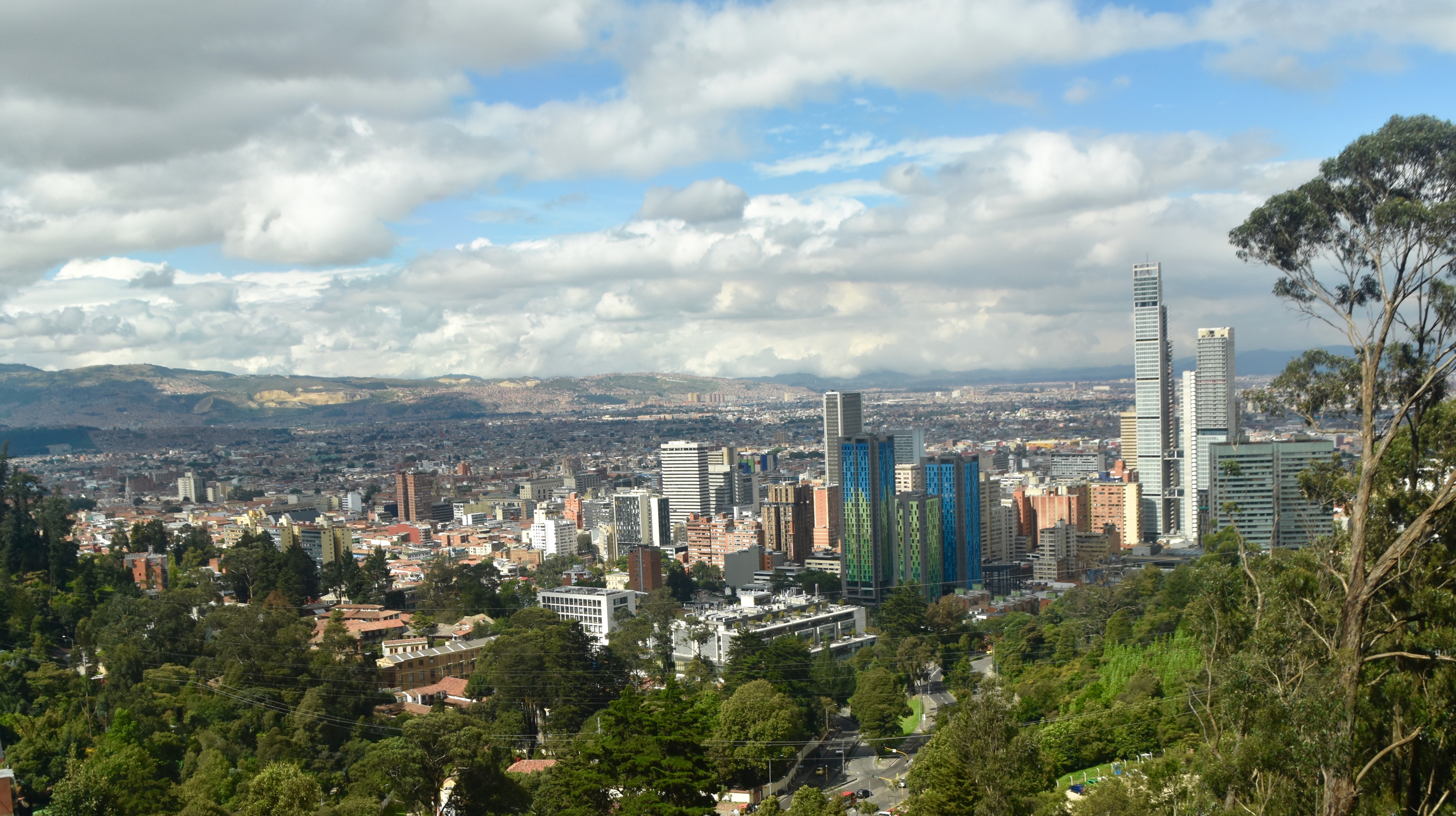 Regrouping at the top, Catalina gives us a history of Monserrate in front of this map. We are at the bottom and will make our way up the right hand path to the sanctuary and mirador at the top, but we will do it very slowly because we can't bloody well go fast because of the elevation. It's the highest elevation that Alison has ever been to (outside a plane) and I've only been this high on a couple of ski trips many years ago. So we climb the final couple of hundred yards at just over a Usain Bolt snail pace.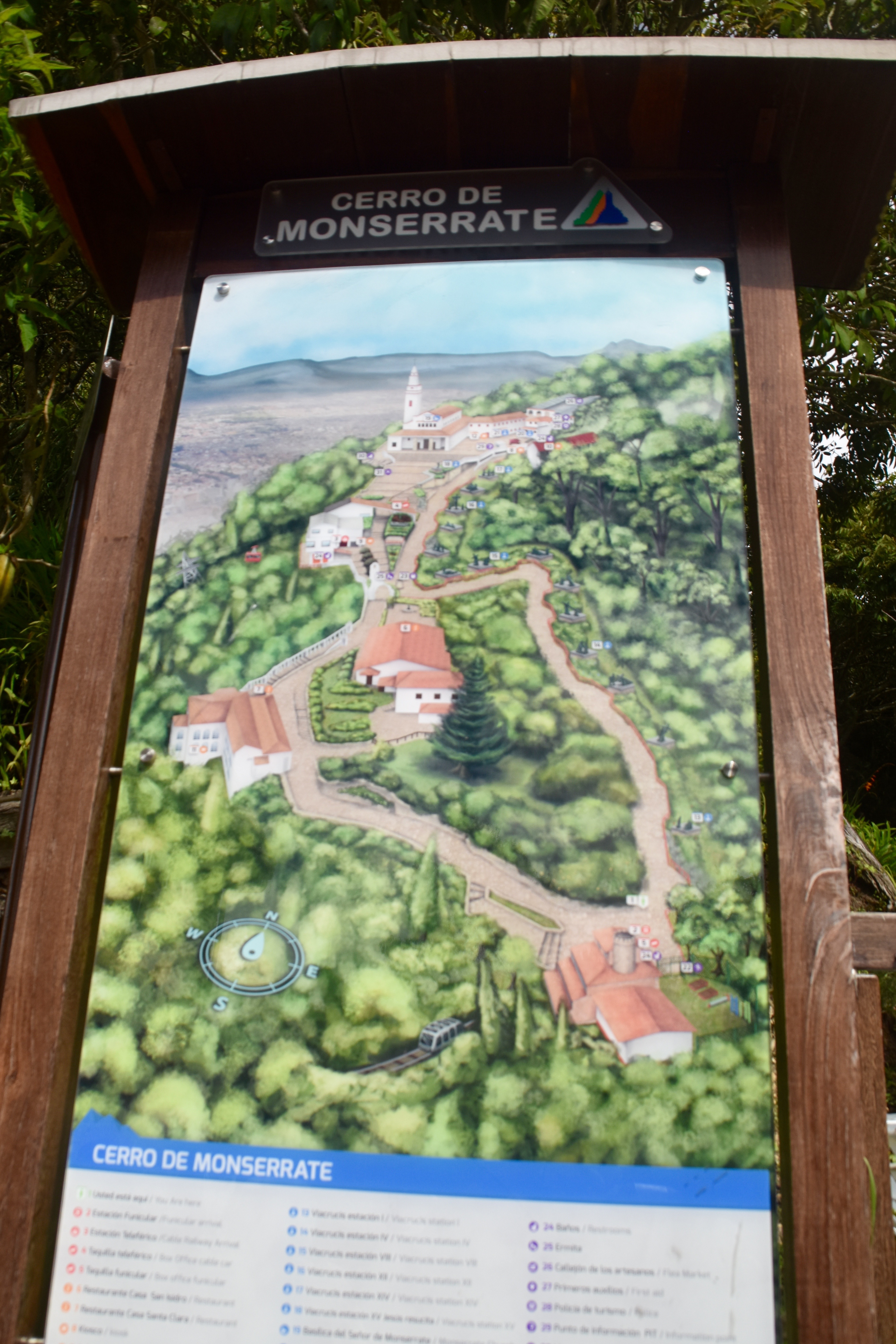 In the last post I described the stylistic stations of the cross at the Catedral De Sal in Zipaquira. Well they have stations of the cross at Monserrate as well, but they are in a much more traditional form. Here is Station 1 where Pontius Pilate condemns Jesus to death. According to the Bible, Pontius really didn't want to do this and they both appear to be looking to a third person for guidance. Jesus looks accepting of his fate and Pontius giving in to this other party. This is actually a very good sculptural tableaux, in my opinion.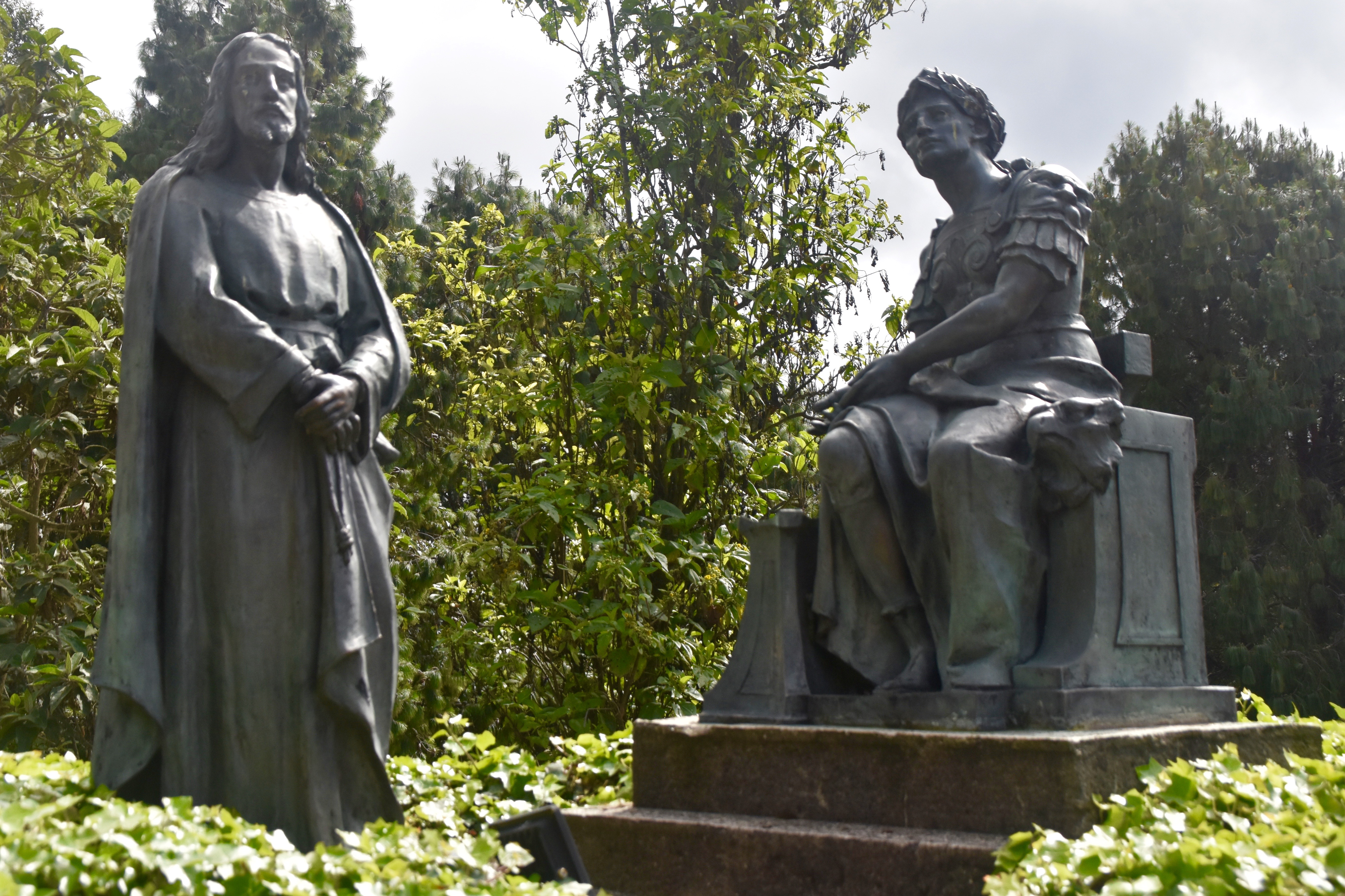 A third reason people like to visit Monserrate is for the flora and fauna. The place is alive with birdsong and beautiful flowers. I could have done a post just on that, but I'll settle for this one that had lamb's ear like velvety grey leaves and outstanding yellow flowers. I'm damned if I can figure out what it is called.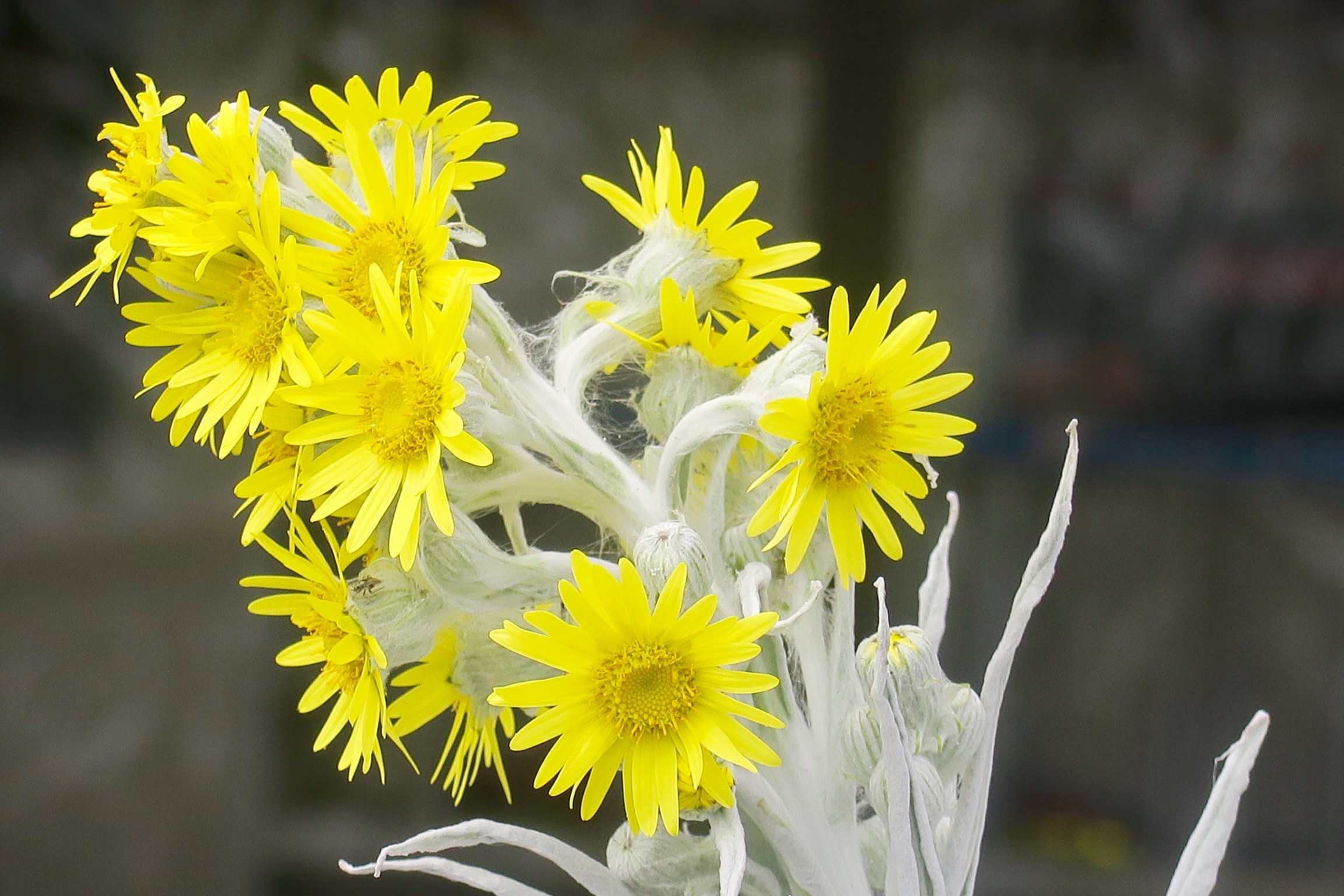 We arrived at the bottom of the stairs to the sanctuary and had this picture taken. You can see it's not exactly uncrowded. It made me think of how many people it would take to open the cable car. This is also where the guys were doing wind sprints up to the church door.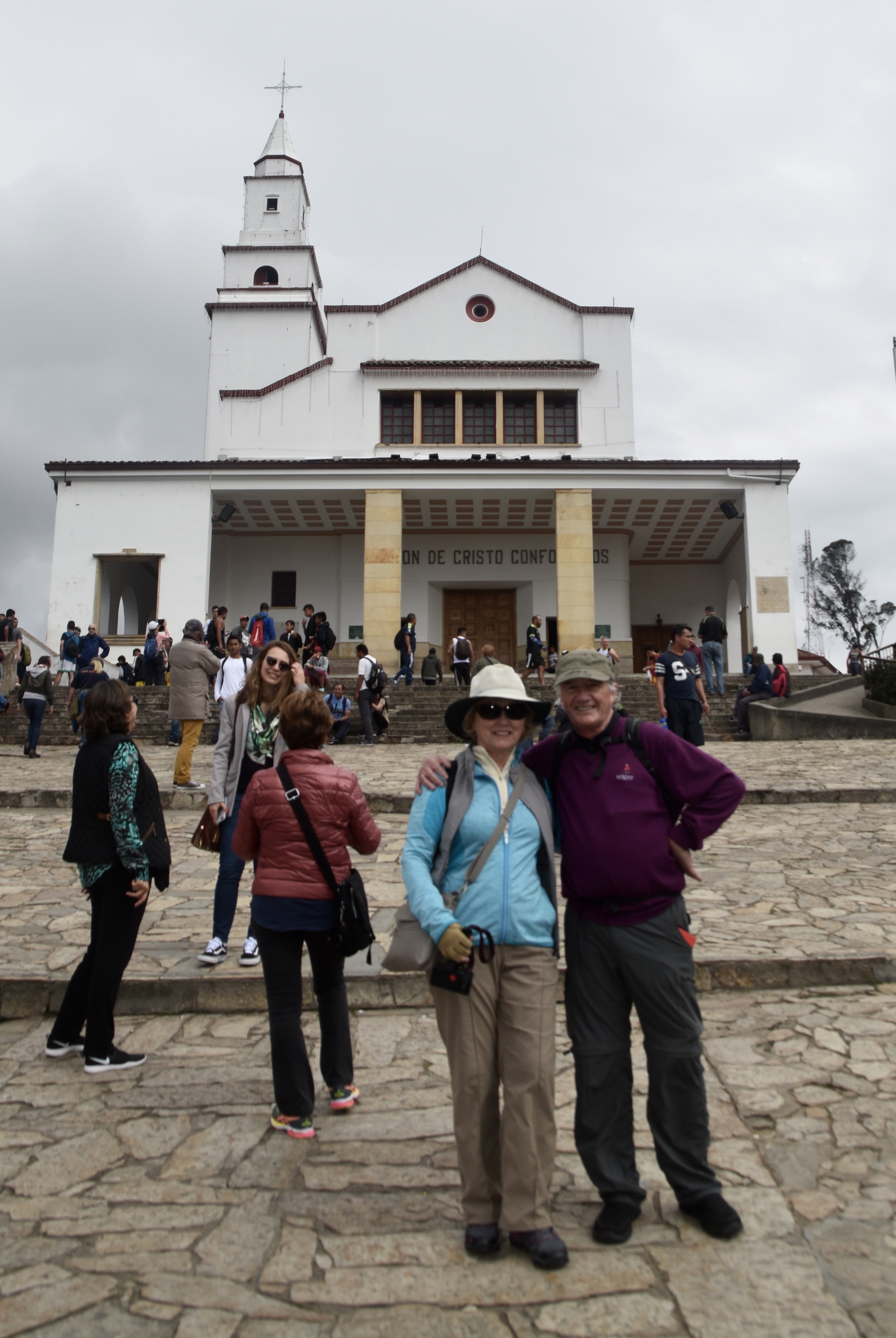 Inside the church there was some kind of ceremony going on with the priests words broadcast over a loud speaker for all to hear, whether they wanted to or not. Ducking into the church I was amazed that the celebrants were almost all young people.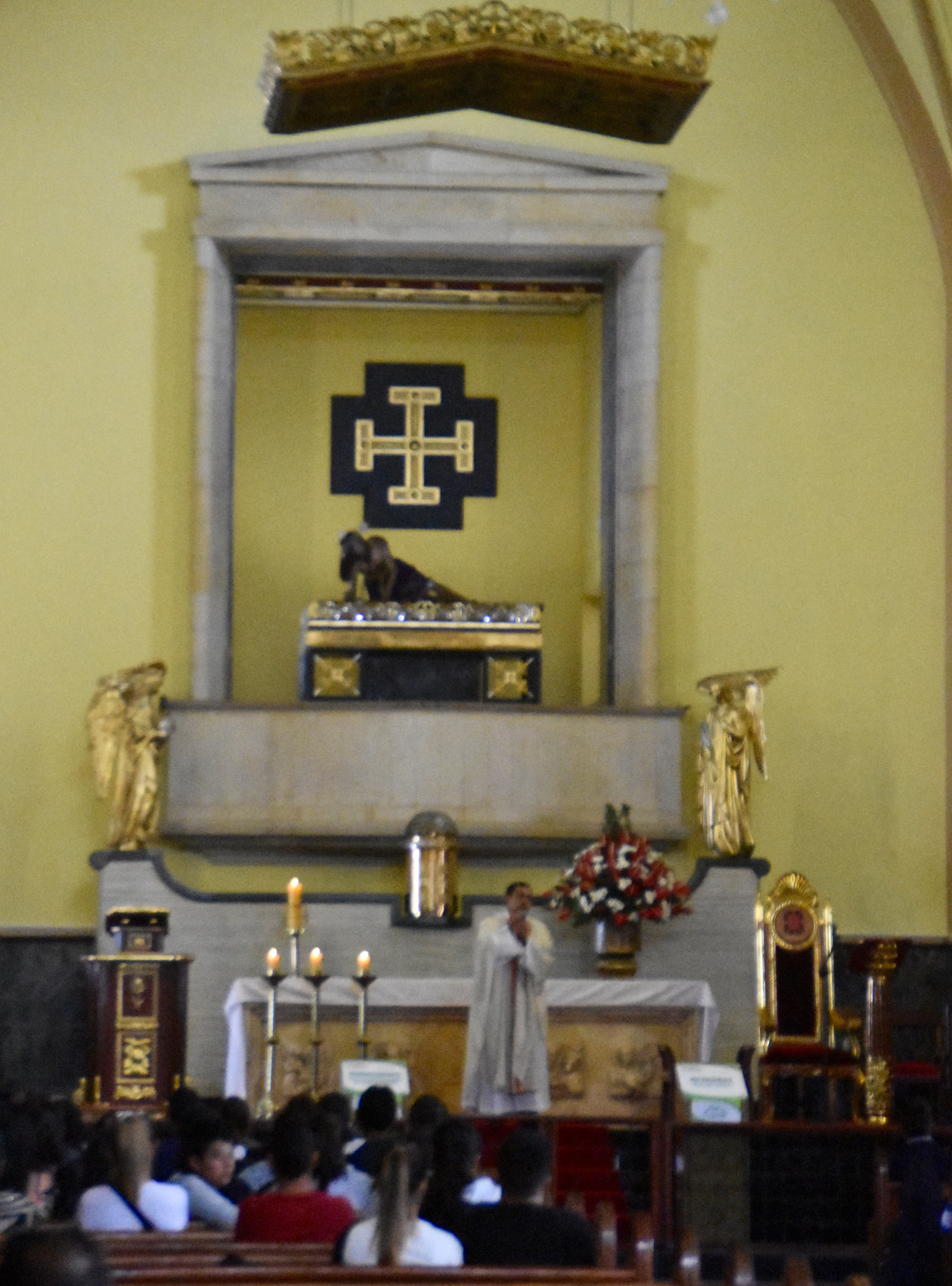 Catalina was standing beside Alison and leaned over and whispered, "Brainwashed" into her ear.
I would normally have left, given there was a service going on, but an elderly lady gestured for us to come up the left side of the nave and into a chapel where we found the Black Virgin Of Monserrat, except it's a fake. The real virgin, if that's the right word, is in the sanctuary at Monserrat, Spain and this is what she looks like.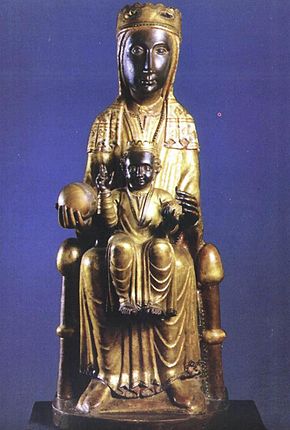 And this is the Colombian version.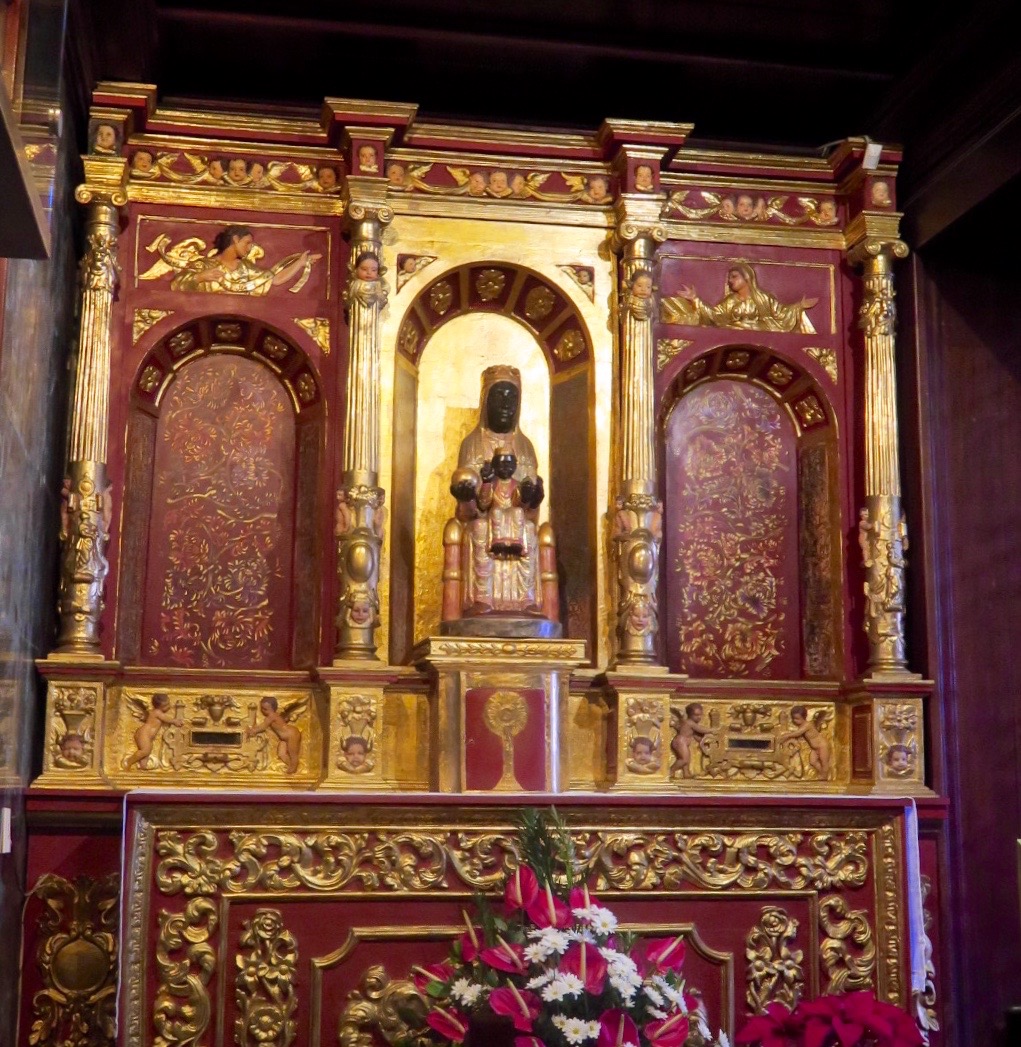 There are lots of black virgins around (literally and figuratively), almost all caused by smoke damage from the interminably burning candles in Catholic churches, but I was kind of hoping that this one would be different. But no, it's just a copy of the original in Spain.
Having completed our dutiful visit to the church, we could now turn our attention to the real reason for our visit, the mirador or viewpoint from Monserrate.
No other word for it – the views of Bogota are spectacular. This is a view of the downtown.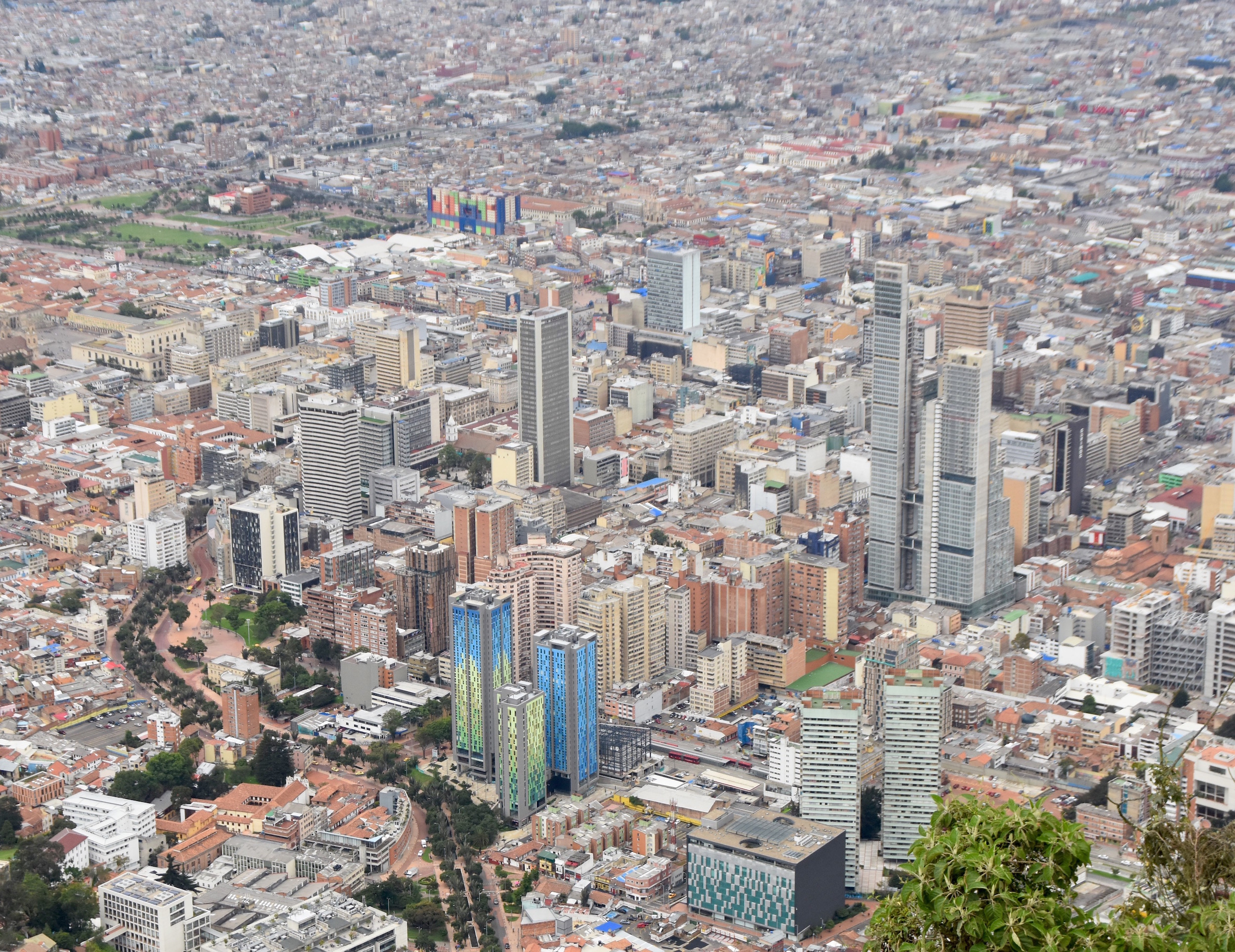 This is a view to the sprawling southern south side of Bogota..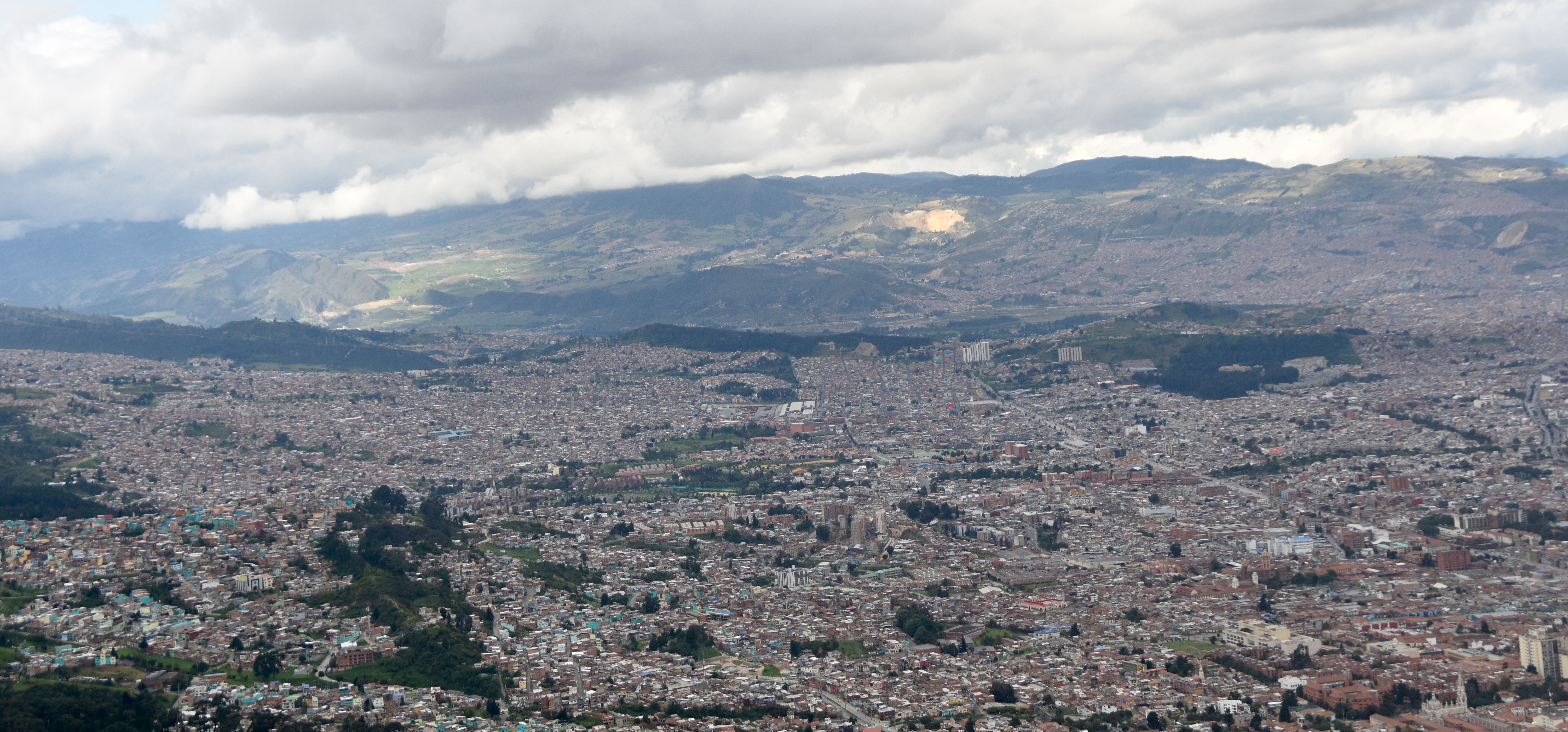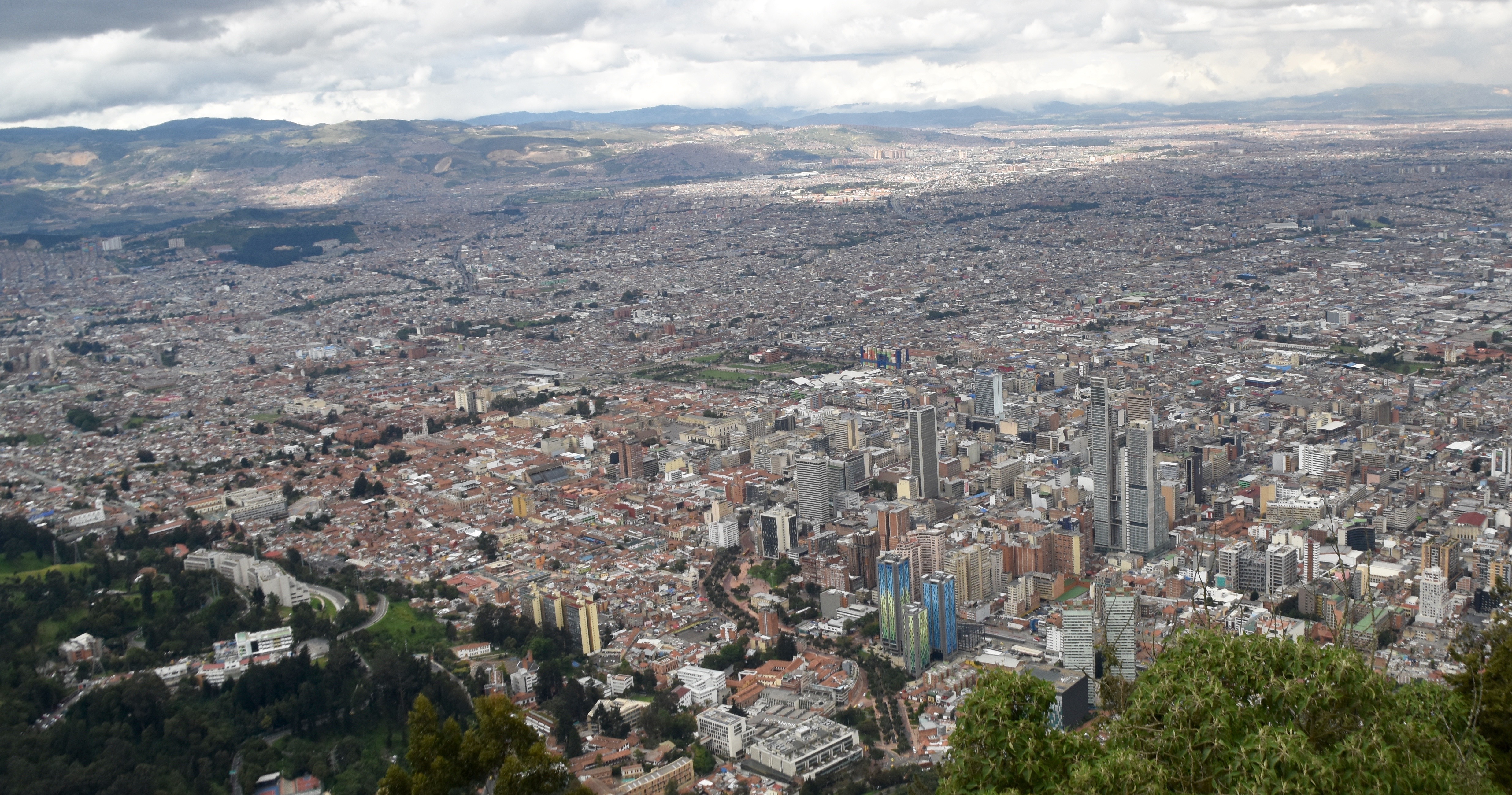 And a wide angle view. Nore how quickly the weather changes up here. Between the time I took the first photos and changed the lens, blue skies started to appear.

Lastly, a video.

One final view from Monserrate is over to Guadalupe Mountain where, at night, you can see a giant statue of Christ lit up. There is no easy way to get up there so this is as close as a tourist is likely to get.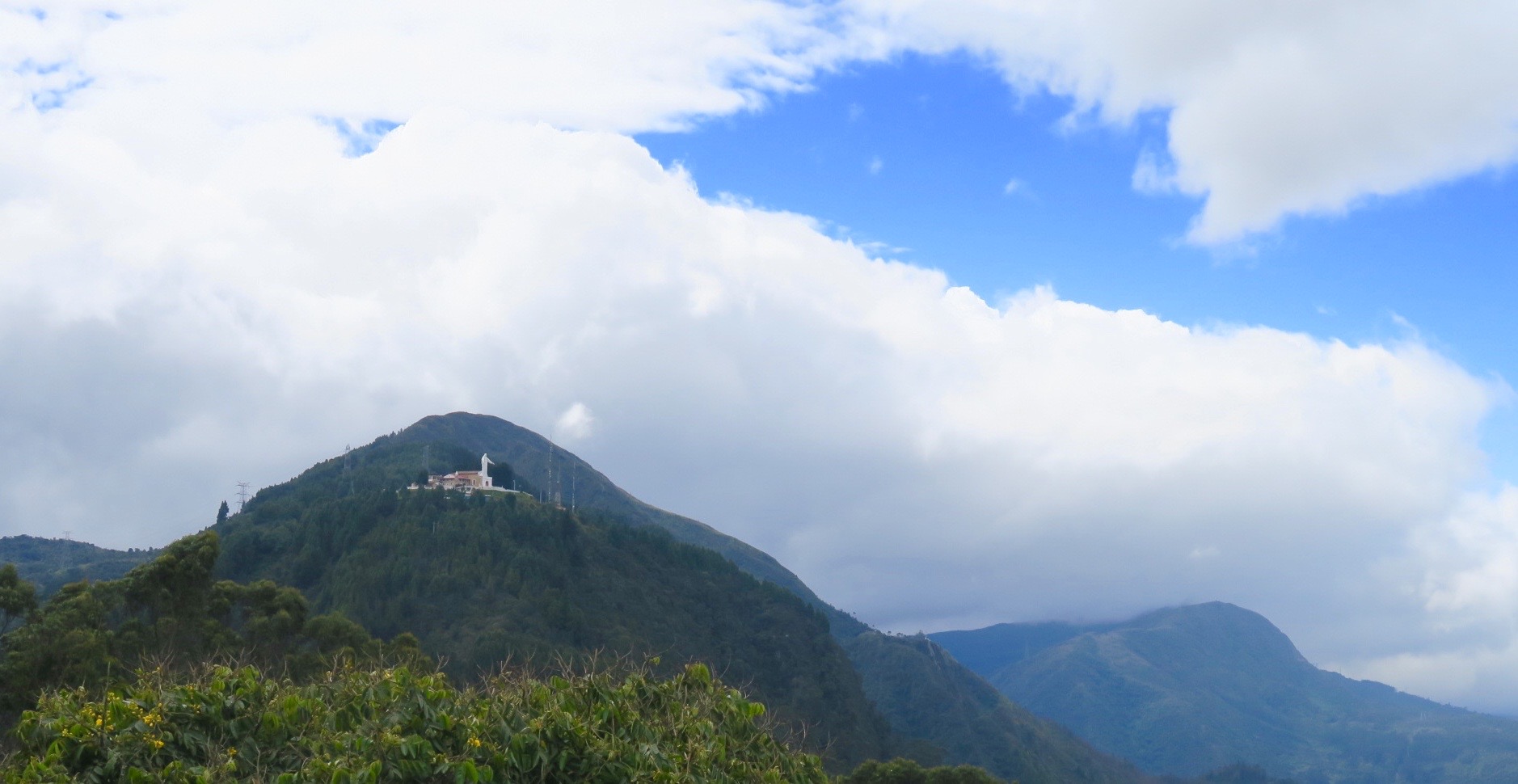 So that's Monserrate. From here we will take the funicular back down and take a walk into the oldest area of Bogota where we will have a chance to view some of the street art that has made the city famous. I hope you'll join me for the walk.
---
 Thanks again to Dale for sharing his journey with us.
To learn more about our small group tours and specifically our Columbia tours, click here.